Monti Inc., a family-owned and operated manufacturer in Cincinnati, spreads the values of responsiveness to our customers' needs, long-term sustainability, and mutually beneficial relationships throughout all 240 employees. Because we have continued to grow since 1971 on family-centric beliefs, we focus on fostering mentoring relationships within our workplace to continuously support our growing team.
Adam Richendollar has been part of the Monti family since 2012. Immediately after high school, he earned a bachelor's degree in Network Systems Communication Management from DeVry University. Unable to find a job in his field after graduation, Adam started working at Walmart to support his family. He knew this wasn't a long-term solution and continued to look for a more fulfilling career.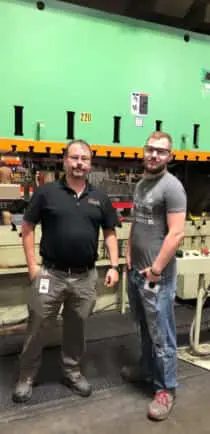 With family who works at Monti encouraging him to apply and the eagerness to provide more for his wife and son, Adam accepted a job with Monti Inc. He started off in the Dry Mill department operating machines until the Fabrication Supervisor offered to bring him into Brazing after a few short months. The challenge this department brought enticed him to accept. It was an easy transition for Adam because of the learning opportunity and the teamwork between departments on the floor. Fast forward two years and an opportunity in engineering became available. Excited to get back to working with software, Adam applied. While he didn't have experience with SolidWorks, he knew he could learn if given the chance; the engineering department took that chance on Adam. While he was slow at first, he knew he could count on the team to have his back and to help develop him as a better engineer.
A few years later, Adam was called to the challenge of operating the Wire EDM machines while Bruce, the supervisor and only employee in the department, was out for a couple months. Adam had only two weeks to learn everything he needed to know about these machines; his biggest challenge to date. Adam had very little experience with CNC machining, but the team of set-up technicians and operators on the floor helped answer his questions and even joined heads to combat some problems. While no one else had the knowledge of Wire EDM machines specifically, they were able to work together for an outcome. When Bruce came back, he kept Adam on his team and introduced him to the world of tool and die design.
With the Tool and Die department growing, Monti welcomed veteran Tony Wagers to the family. Tony comes with 27 years of experience from working with multiple companies in the Indiana and Ohio regions. His first look into tool and die came when he was just returning from military training at 19 years old. Here he started taking a liking for the trade when he was building the tools, but he really fell in love with it when he started designing. Since joining Monti in October 2018, Tony states that he's found a wonderful, final home with great people, a strong family atmosphere, and the sense of teamwork from everyone in the shop to make sure everything always goes as smoothly as possible to deliver a quality product to the customer.
Wanting to spread the tribal knowledge of the die design trade, Tony was excited when the position with Monti presented him with the opportunity to mentor Adam. About a month after Tony started, the two of them took a trip to Milwaukee, Wisconsin to attend a four-day training on LogoPress3, an extension to SolidWorks that quickly and effortlessly automates some of the processes in designing a die. Between the road trip and the meals shared together, they quickly started building a relationship. Back in Cincinnati, they share an office where they think out loud, ask each other questions about the new software.
In the short time since Monti has sparked this mentoring relationship, Tony has had great impact on Adam's growth and learning from helping fix the flaws in a design to reminding him to "not get mad." While Tony certainly adds value to Adam's career, Adam reciprocates by helping Tony learn as well, especially when it comes to the software. It's wonderful to see the work accomplished between the two and the encouragement to continue the growth of a trade known by so few.
By Alexis Hagenmaier