A new high-volume, automated powder coating line for ANSI-61 Gray can accept a 2-ft.-by-4-ft.-by-8-ft. component. The 20,000-sq.-ft. building includes a wash line, dry-off tunnel, powder coating process and curing oven.
The line was installed to control costs and lead times, which means no need to pass on rate increases to customers and no third-party related complications to slow productivity. Monti's Greenwood facility now controls the complete powder coating process and is already running at an average of 75-percent capacity.
The new automated line has numerous economic and environmentally efficient features. It reclaims and recycles the spray powder. Powder that doesn't adhere to the part is filtered and then goes right back through the guns again. The system also adds virgin new, fresh powder to the system, with the result of being 90-percent efficient on powder usage.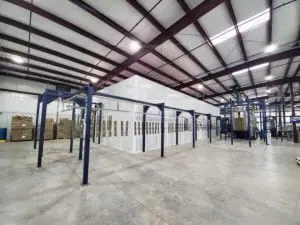 Its four-stage wash system is also efficient compared with other powder coat processes. It starts with reverse osmosis water — the purest water possible, which helps the wash chemistry remain strong with the best life it can possibly have. It's also a zero-discharge system. With other powder coat processes, the wash system is continuously discharging about four gallons a minute down the drain, which goes to the sewage treatment plant. With Monti's system, water is reprocessed, saving on sewage disposal fees. About 90-percent less water is used in the process. For the water that requires disposal, Monti uses an evaporation system to eliminate it, that lessens impact environmental impact.
Monti's automated powder coating system incorporates zirconium-based chemistry. Other systems flush chemicals down the drain and then replenish them, but Monti's system allows for longer life. It's EPA friendly compared with many other methods, which use harsher and more aggressive chemicals. Zirconium-based pre-paint coatings have been available for more than a decade and are becoming the preferred choice for pretreatment over iron or zinc phosphates. Zirconium coatings operate at ambient temperatures, which provide significant energy savings. They do not contain phosphates, which many local municipalities currently do not allow (or in limited quantities) to be discharged into sewers. A phosphate-free technology, shops avoid this problem.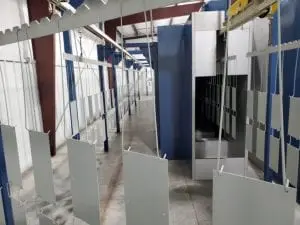 Monti's new automated powder coating line recently passed the 1000-hour salt spray testing with a rating of 10 (highest rating) on all attributes where 5 or greater is required. Monti was only required to pass the 600-hour for the powder specification. This debunks any myths about how a 4-stage system is not as effective as 5 or 6 stage system.
The new line is complemented by a traditional, manual spray-to-waste-system, should a customer require quick color changes. Monti is planning to expand and grow different colors with this manual line.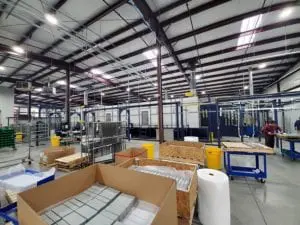 Monti designed and built the entire system based upon its existing customer needs and existing color profiles. But the design allows for retooling should customer needs change.
– Nick La Vigne, Plant Manager, Monti Inc. Greenwood, S.C.