Introducing Monti's New Haas VF-7, Our Largest CNC Vertical Machining Center
The Haas VF-7 will allow us to machine larger parts than previously possible. This vertical machining center will come equipped with through the spindle coolant and air, wireless part and tool probing, along with high intensity LED lighting. All of this will assist at improving productivity and part quality at our Cincinnati facility.
The VF Series vertical machining center offers a wide range of available options to customize our processes to meet your exact needs. This large-frame model comes with an upgraded features package that includes a side-mount tool changer and programmable coolant nozzle.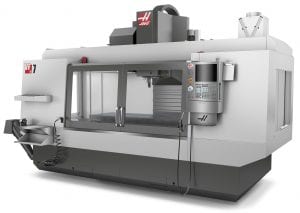 30 hp, direct-drive, 8100-rpm spindle
24+1 Side-Mount Tool Changer, 40 Taper
X Axis 84 in., Y Axis 32 in., Z Axis 30 in.
4000 lb Maximum weight
About Haas
Haas machines are designed by machinists for machinists in Oxnard, California, USA. Sprawling over 1.1 million square feet, Haas Automation's global headquarters produces more than 13,000 machines per year. With more than 200,000 machine tools produced since 1988, you'll find Haas machines in nearly all aspects of manufacturing – from precision engineering firms to contract manufacturers to Formula 1 race shops.
https://www.haascnc.com/machines/vertical-mills/vf-series/models/large/vf-7-40.html