According to the 2016 United States Census, only 29% of workers in the manufacturing industry are women. This percentage has stayed consistent over the years with only a 0.4% increase in female employees since 1970. Here at Monti, Angela Bailey is defying the odds.
Angela started at Monti in January 2008. Her previous work had given her experience with operating CNC machining, but she was not versed in their programming. When she joined the team, she engaged in training that taught her how to set up programs and successfully run the machines. Soon after, she began doing set-ups for the lathe department on the third shift. Angela was the first person to operate this department on the night shift and began practicing her leadership skills along the way when she trained multiple people on the position she just mastered herself.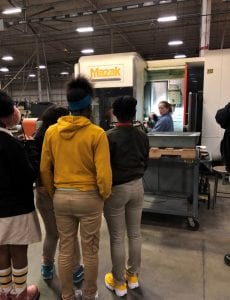 After six years, her success in growing the third shift lathe department led to her promotion to first shift to run the new Integrex i-200s, a cross-functional CNC machine that can provide the capabilities of both turning and milling machines. Angela continued to defy the odds when she became the team lead. In this position, she furthered her manufacturing knowledge and day-to-day operations while learning how to inspire her team. During her tenure as a team lead, Angela served under two supervisors where she learned different leadership skills. This diverse skillset has led her to become the first female production supervisor here at Monti.
On a personal note, Angela looks up to retired USWNT superstar and long-term holder of the all-time international goal scoring record, Abby Wambach. Abby's passion for gender equality, and specifically women's rights, has given Angela the inspiration to defy the odds as a minority in manufacturing.
Angela has not only served as a leader to her coworkers and peers, but she has served as an inspiration to future women in manufacturing. Each year, Monti hosts students during Manufacturing Day as an opportunity to educate young individuals on the importance of the industry and also as a possible career choice. Year after year, Angela uses this chance as a way to empower high school women to feel confident in choosing a career as a machinist.
As the newest addition to Monti's leadership team, Angela works tirelessly each day to ensure the high quality of her team's output while fostering a family environment. The team aspect that exists at Monti is personally important to her, and Monti is thankful to have Angela apart of it.