Welcome Monti's second Mazak Optiplex 3015 Fiber II 2D Laser
Our new "Identical Twin" fiber laser will allow us to offer superior service in thin-gage mild steel, stainless steel, aluminum and other exotics with a two-pallet changer. Actually it's his bigger brother, our new laser is a 6 kW, adding to our 4 kW laser capacity.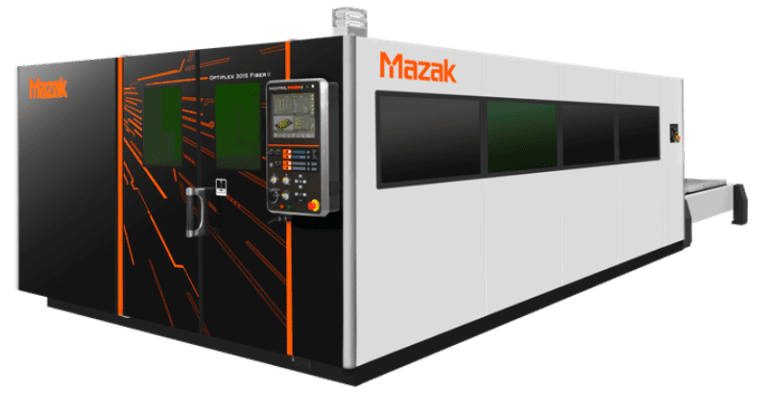 he Optiplex 3015 Fiber offers superior edge quality, more stable cut performance and greater throughput for applications utilizing stainless steel, copper, brass, bronze, aluminum, hastelloy, inconel, titanium, thin gage mild steel, and other exotic metals. There is no need for additional surface cleaning when painting mild steel cut with nitrogen. It can process sheets up to 5 by 10 feet.
Optiplex 3015 Fiber incorporates Mazak's Intelligent Technology to directly increase the productivity by allowing the machine to optimize the torch setup automatically per program. This optimization can dramatically improve cut speeds and increase throughput. The combination of fiber beam diameter and focus control provides a wide range of improved cut performance in all material types and thicknesses. The eight-position nozzle changer facilitates unattended operation while ensuring the proper cut quality.
The laser features a new control with a 15" touch screen graphical interface that clearly visualizes the cutting path and automatically determines process conditions including the required lens, nozzle, feedrate and laser output for different materials and thicknesses.
Monti Inc. is a custom electrical component supplier specializing in copper busbar manufacturing, copper fabrication, and complex electrical insulation fabrications to the tightest tolerances and highest quality control. We'll also help you value engineer your part to shorten lead times while increasing the value of the component.