Monti's second Greenwood, S.C. facility recently opened its doors to expand its Epoxy Automated Line and add newly installed copper punching and press brake machines. This 33,000-square-foot expansion creates new jobs in the region with the potential to expand with future growth. This new manufacturing plant rounds out Monti's services as the latest addition to its four other fabrication, powder coating and finishing plants in Cincinnati, Ohio, Greenwood S.C., and Sumter, S.C.
The new Epoxy facility is open Monday through Friday from 7 AM to 3:30 PM.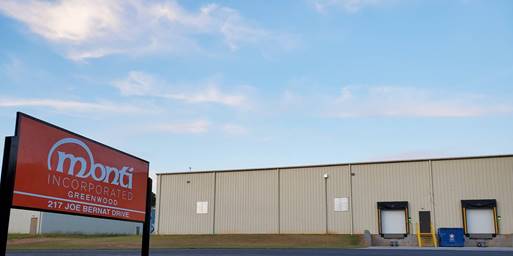 Expanded capabilities of the new Greenwood, S.C. manufacturing plant include:
Fluidized dipping beds
Single-shift throughputs of approximately 250 bars daily
Multiple onsite quality assurance testing procedures
Onsite brush plating
Initial Epoxy powder offerings will include:

DK19 Red, Medium Voltage (600V-38KV)
a. Automated Line Standard Size is up to 5-ft long. Batch operations can handle larger bars.
DK15-0463 Black, Low Voltage (600V)
a. Automated Line Standard Size is up to 3-ft long.
Other powder brands and types will be considered upon request.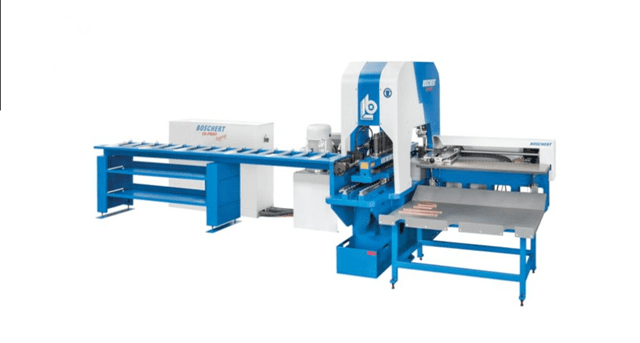 Boschert CU Profi Copper Bar Processing Machine
The Boschert CU Profi copper bar processing machine is a flexible and powerful solution for the efficient processing of copper, aluminum, and steel bars. Monti currently has three CU Profi's in production and its newest addition will be equipped with 8 punching stations, one of which will be an extra-large station for punching up to 2-inch-diameter profiles. The CU Profi accommodates bars up to 20 feet long, 9 inches wide, and material up to ½ inch thick. The CNC-controlled punching heads use standard thick turret "B" station tools and are equipped with hydraulic material clamping in the Y-axis on both sides of the punching head to ensure straight punching patterns. Also, a new feature on Monti's latest CU Profi will be the capability for in process CNC dot-peen marking. The material feed system on the CU Profi utilizes special clamps to ensure complete processing with little waste. This feeding unit is supported on a linear guide and AC-servo motor, which guarantees a repeatability of ±.004" on material that is .25" thick.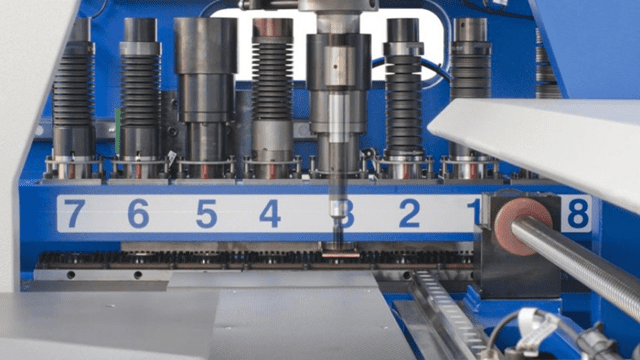 Bystronic Xact Smart CNC 160 Ton Press Brake
The new generation of the Xact Smart increases the versatility and speed of bending. With its numerous new functions, Bystronic's Xact Smart offers a decisive plus in bending technology. From the very onset, Bystronic designed this machine tool to offer a performance package with intelligent functions that enable users to produce parts cost-effectively and in high quality. One of the additional functions is the Xact Smart's insert extension and stroke length expansion. This means that higher tools can now be used with the Xact Smart and enables users to produce parts with lower bending edges. This is particularly useful, for example, bending boxes and drawers. Another feature is the five-axis backgauge. The newly designed Bystronic backgauge systems are faster and thus increase the speed of the bending sequences. The five-axis system will allow Monti to use the Xact Smart to be bend complex 3D parts. A very important additional feature of the Xact Smart is the intelligent sensor system for precise bending. The special Bystronic crowning technology ensures high-precision air bending results. This unique assistant function is only available in this form with press brakes from Bystronic. Thanks to its sensor system, the Xact Smart's crowning recognizes the position and length of the sheet metal part. This sensor system is integrated directly into the ByVision Bending control. This enables the Xact Smart to automatically control the ideal distribution of the bending force across the entire bending length without requiring the operator to deal with complicated details. This results in precise and consistent angles with every bend.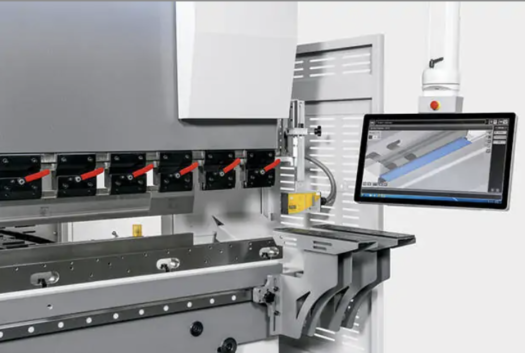 Monti Inc.'s Greenwood Plant 2
217 Joe Bernat Dr.
Greenwood, SC 29646
Phone: (864) 323-0444
Fax: (864) 323-0325