Meet our Greenwood Plant!
At Monti Inc, we have always been dedicated to quality manufacturing at a reputable and consistent speed. Our newest plant in Greenwood, South Carolina, known as "EPX" internally, has taken on the challenge of replicating this reputation and has succeeded through its copper bus bar fabrication. Originally an epoxy coating plant for electrical insulation, the facility is pursuing a new initiative shortly after its opening to fabricate copper bus bars alongside the epoxy dipping operation. This creates a streamlined approach to the fabrication of copper bus bars and assures that both goals of the facility can be achieved smoothly. With trusted industry standards shaping EPX's process and a dedicated team heading the manufacturing at the plant, we are charging forward with our fabrication efforts in order to create a turn-key facility.
Meet the Greenwood Plant
EPX is home to a unique fabrication process for copper bus bar conductors. Within the plant, copper is punched and formed into various sizes via specialized machines. These sizes can be set to industry standards or made to custom dimensions to fit a specific bus duct or apparatus. The EPX plant covers the total fabrication cycle from forming the processed copper to epoxy dipping (as needed).
With epoxy insulation specifically, Monti's 25 years of epoxy experience has transformed their automated system with roughly a fourth of copper bus bars needing to be coated. Despite its original intent as an epoxy plant, the shift from singularly epoxy to copper fabrication hasn't deterred the team working in the plant nor has it inhibited production. The switch has made the plant more efficient as the fabrication and processing of the copper bus bars are done in-house, eliminating any shipping wait times.
Staffing the plant
This manufacturing plant employs a dedicated full-time staff. This staff works continuously to make the facility as streamlined as possible while maintaining the Monti guarantee of quality. Building up over the previous year, the EPX team thrives with its excellent productivity, high-quality standard, and on-time delivery. These attributes, such as the plant being ISO 9001:2015 certified, push the EPX facility closer to its main goals of setting a new industry standard in fabrication by creating a powerfully efficient turn-key product line while streamlining the process of fabrication overall.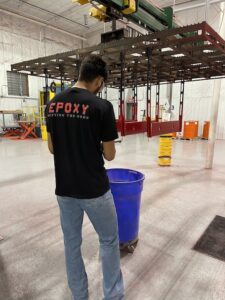 How its made
EPX bus bars are unique. With industry-standard production, the bus bars are punched and formed into the specifications set before production. Once this fabrication is finished, depending on the specifications set out by the customer, bus bars are coated in Monti-specific black or red epoxy resins for Low Voltage and Medium Voltage respectively.
The equipment itself is twofold—a Boschert CU Profi copper bar punch machine and a Bystronic Xact Smart form the copper bus bars before being coated. Once coated, the bus bars are packaged and shipped. Deceptively simple, the process requires precision equipment, can be fully offline programmed and requires meticulous attention to detail.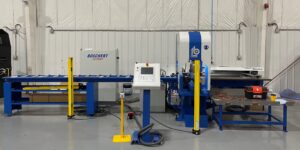 Going forward
With a growing need in the electrical industry for high-quality copper bus bars with Low Voltage and Medium Voltage epoxy resin insulation, Monti's EPX facility is a proud provider of bus bar solutions and is looking to become the bus bar center of excellence and incorporate the Monti guarantee of quality and efficiency in every bus bar produced. The dedicated team at EPX is constantly looking for ways to improve the fabrication process through the addition of new machines, techniques, and expertise within the plant.
Monti and EPX are ready to make whatever copper bus bar you need. Call and get a quote or speak to a specialist today. Call us at (864) 323-0444 or get a quote online.