Proper packaging of parts in transit cuts rejected shipments
How do you handle stampings made from soft metals? Very carefully. If you're Monti, you handle them carefully—with tightly bound plastic film.
Monti Inc. is a multiplant, midmarket major metal components supplier to the electrical distribution industry. Several of its customers are FORTUNE® 500 companies. The company performs stamping, machining, press brake bending, welding, CNC turning, plating, and epoxy dipping, among other processes, in the manufacture of conductors, insulators, and steel components. The company has approximately 250 employees among four facilities.
Monti's stamping division in Greenwood, S.C., specializes in low- to medium-volume stampings from 10,000 to 200,000 parts per part number annually. About 30 percent of the parts the plant stamps are copper and aluminum (see Figure 1). Most of them are shipped to another Monti manufacturing plant for final production for its electrical supply manufacturers. "We are the largest supplier to many of our end customers," said Monti Plant Manager Nick LaVigne. The balance of the parts are steel and GPO-3, a glass polyester laminate.
Handling Soft Copper, Aluminum With "Kid Gloves"
Stamping soft copper and aluminum comes with handling challenges.
Prevent Oxidization. "One of the problems we run into with copper is it tarnishes quickly. If you stamp copper and leave it exposed to the elements for months in its bare form, by the time you reach back in there to retrieve it, it will already be tarnished," LaVigne said.
Shield From Damage. LaVigne said that some other challenges related to copper and aluminum are because they're soft. "Copper is dense, weighing more than steel, but it's also soft," LaVigne said. While stamped steel parts can endure being dropped on top of one another into bins or Gaylord boxes, softer copper and aluminum components demand extra attention to prevent damage, dings, and dents from even ordinary handling that would otherwise render them off-spec, LaVigne said. "And we're moving a lot of material at once, so it can be really easy to damage the material."
Block Cross-Contamination. Because the manufacturer handles not only aluminum and copper but also steel, there is a high risk of cross-contamination. "Since we specialize in the low to medium volume, we stamp a lot of different part numbers. Because a tool might run for just a few hours or a day, we do a lot of changeovers," LaVigne said.
"In general, we go back and forth from hot-rolled steel, cold-rolled steel, and galvanized steel, and then all of a sudden we'll run aluminum," he said. "One specific product line is very high volume and the customer changes the material often, so we might run 20 bars of copper, then one bar of aluminum, back to copper, then back to 100 bars of aluminum," he said. "Plus the lengths change each time."
If material, dirt, or debris gets picked up on the rollers, it goes back into the material. "So before you know it, you'll have scratch marks or divots on your aluminum from your feed rollers," LaVigne said.
All of these challenges with stamping a broad range of materials led the company to reassess its overall organization and cleanliness procedures.
"Our warehouse is OCD-organized," he said (see Figure 2). "I drove the initiative because a year ago, our warehouse required reorganizing and some attention. We used to have boxes and skids of different heights and you couldn't tell what was where. Now everything's well-organized, uniform, and documented," he said.
Automated Film Packaging Cocoons Parts
As part of its effort to prevent oxidation, block cross-contamination, and shield parts from damage, Monti began using a patent-pending orbital stretch-wrap machine called the TAB Wrapper Tornado®, which automatically wraps plastic film 360 degrees around and under the product and the pallet to protect the aluminum and copper stampings (see lead image).
The plastic film provides a protective cocoon from the elements (see Figure 3). "It just keeps the finished copper or aluminum parts clean so they don't get contaminated with dust and keeps the oil and rust preventive on it to reduce the oxidation," LaVigne said.
A forklift driver operates the orbital wrapper using a wireless remote control without leaving the seat.
"It's all automatic," LaVigne said. "As you start feeding the forklift and the box in there, you hit the button to start and it just starts wrapping clockwise in a circular motion around the box or skid. Then when you're done, you hit the button to cut it. It takes less than a minute," he said. It can secure Gaylords, drums, and other types of bins, boxes, and containers onto the pallet, creating a single, unitized load.
Monti uses the orbital wrapper to move work-in-process (WIP) around the plant from stamping to welding, tapping, plating, painting, or other downstream processes. Parts are staged after each process, LaVigne said. "After every process, we'll put the parts in a box and orbital-wrap them because they might sit on a shelf for weeks before we take them to the secondary operation. From there our shipping team, which is right next to the stamping department, will pick up that skid with their forklift, wrap it, and move it over to the next staging department or to the warehouse."
Wrapping the parts has resolved problems resulting from leaving WIP parts in open bins exposed to dust, humidity, and other contaminants.
Held Tightly in Compression
In addition, the parts require tight packaging with a high compression factor to keep them in place during transport. As loads increase in weight, they become more prone to shifting or sliding off the pallet. Keeping the load fixed on the pallet and keeping the box or container from failing at its sides as the delivery truck makes turns at high speeds are critical. Adding side support or top cover support with plastic strapping, metal banding, and plastic film wrapping is commonly used with varying degrees of effectiveness. Wrapping film manually or with a horizontal turntable wrapper can add side support but may not add to the compression required to keep the load fixed in place on the pallet.
The orbital film wrapper wraps the parts firmly to the skid, LaVigne said. The machine provides both the high compression factor needed to keep the load pressed into place on the pallet and the side support needed to prevent shifting from side to side during transport.
When the boxed stampings are ready for shipping to the customer or to outside vendors for additional operations, the boxes are quickly wrapped to the pallet. Loose groupings and large products can be wrapped directly to the pallet unboxed. Oddly shaped parts that cannot be neatly stacked and nested are held firmly in place to prevent damage due to shifting in transit.
LaVigne said that although the orbital wrapper is especially needed for copper and aluminum parts, the company uses it for ferrous materials as well.
"Almost every product that leaves our dock, whether we deliver it or whether we ship it on light freight, gets orbital-wrapped," he said.
Other Handling Strategies Seal the Deal
LaVigne said the company has devised some additional strategies for handling the soft metal parts.
"We're very specific about how we handle the material coming in and out of the press. We have a small custom packing machine and table that control the way the parts fall. It's adjustable. As parts come out of the stamping press, they're automatically stacked for the operator so that when a part comes out, we stack it on the table. So that helps to prevent damage," he said.
In addition, the MRO staff takes apart the feed rollers and straightener system fairly often for maintenance. That extra maintenance provides the flexibility to run a multitude of materials. "When you're running hard materials and then going right to softer materials, you have to have that flexibility in your team to understand they have to keep the rollers and straighteners clean and maintained," LaVigne said.
"It comes down to keeping our dies clean," he added. "When you're stamping copper and aluminum, everything has to be cleaned. We have to keep our rollers clean. A lot of things can become a pain with a progressive die or hand transfers. Keeping those dies clean really helps out with soft materials like copper and aluminum."
Ultimately, eliminating the cost of rejected orders and their operations disruptions pays off, LaVigne said. "By using the orbital wrapper, we have reduced our overall reject rate by up to 5 percent and have eliminated product from being damaged during transport."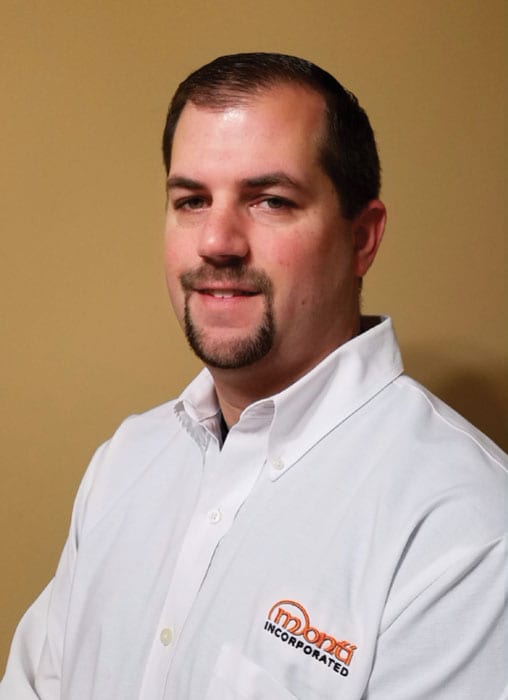 Monti Inc., 104 Airport Industrial Park, Greenwood, SC 29649, 864-323-0444, www.monti-inc.com.
TAB Industries LLC, 2525 N. 12th St., Reading, PA 19605, 610-921-0012, www.tabwrapper.com
View the original Nov/Dec 2018 STAMPING JOURNAL magazine article.